A Pakistani blogger went viral on social media when she said 'party is happening' in Hindi but in an accent. Yashraj Mukhate, an Indian musician, added beats to her words and it went insanely viral. Film stars are joining the bandwagon with Shahid Kapoor, Randeep Hooda, Karan Johar, Deepika Padukone, and many more who have recreated the viral trend. Superstar Ranveer Singh, who commands about 60 million fans on the internet, met a 20-year-old fan and had a Gajar Halwa party! Ranveer made a super fun video with the fan, Muskaan Arora, which is his unique take on the viral Pawri Ho Rahi Hai video.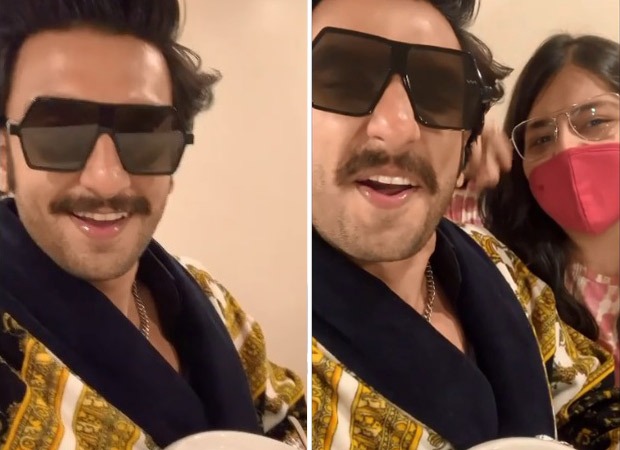 In the video, Ranveer says, "Yeh humara gajar ka halwa hai, yeh hum hai, aur yahaan pe pawri ho rahi hai!" The video posted by Muskaan has gone viral and people are rolling with laughter with how Ranveer has pulled this off!
For Muskaan, who manages a fan club on digital, Ranveer just made her day because she was traveling back to Los Angeles for her film-making course and had a very limited window of opportunity to meet Ranveer. The superstar, despite shooting for 14 hours a day, ensured that he met Muskaan before she left Mumbai.
Muskaan had brought home-made gajar halwa for Ranveer as she knew that her favourite superstar has a big sweet tooth. She says, "I am basically a fan of Ranveer since Ram Leela. I made a fan-club of him. He inspired me to pursue something I am passionate about."
In her post on social media, she further wrote, "The man with a golden heart. Thank you for today baba, you made my day. Proud to be your fan always and forever. He is the sweetest human being I have ever come across in my life. I'm so proud to be his fan! I took gajar halwa for him and he even ate it and spoke to my mom and sister. He is a superstar with the purest heart."